Powellesque Warmongery
is by definition a (live) publication of unverifiable pieces of alleged evidence illustrating a possible (military) threat, designed to make the audience vote for aggression (war) but against any logic, counter-evidence and common sense; the presented
Powellesque Evidence
consists mainly of rumors, graphic files and videos showing alleged intelligence entirely undetermined and partly reproducible by any photoshop freshman; no way of telling facts from fake but fulfilling the
Cheney Doctrine
for entering into war; often
Powellesque Evidence
is manufactured by people other than the
Powell
(the one who presents the material, unchecked by himself);
named after
Colin Powell's (in-)famous speech before the U.N. General Assembly
, February 5th, 2003.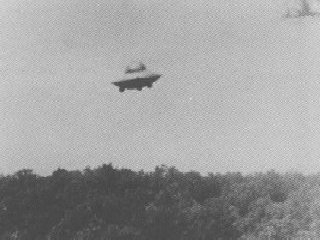 Typical Powellesque Evidence for the existence of aliens
Usage:
"Where did you get that Powellesque Warmongery from?"

"Do you have some link to the original source?"

"No"

"Any other evidence?"

"It was a revelation by former commander of the elite Revolutionary Guard General Hossein Kan'ani Moghadam."

"Who's that?"

"I don't know."

"What a Powell you are!"
"Jesus died and resurrected."
"Gosh! How did that happen?"
"It's written in the Bible"
"C'mon, Powellesque Evidence!"
Recent examples from a decade of Israel-Iran warmongery:
It's Getting Powellesque Again